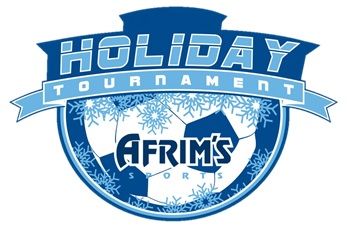 Our 2017 Holiday Tournament will be held on Friday, December 29th - Sunday, December 31st.
Tournament divisions will include U8 through adult leagues. In most age groups we will offer 2 levels of play. Last year we had over 180 teams play in our Holiday Tournament... Will you be one of this year's contenders?
Division Breakdown
Thursday, December 28th, 2017
Friday, December 29th, 2017

U14 Boys 6v6

U14 Girls 6v6

U16/17 Boys 6v6

U16/17 Girls 6v6

Womens 6v6

Mens A & B 6v6

U8 Mixed 4v4 dual-sided *$250/team*

U10 Boys 7v7

U10 Girls 7v7

U12 Boys 7v7

U12 Girls 7v7

U19 Boys 6v6

U19 Girls 6v6

Co-ed** (1, 2/3, 4/5) 6v6

Mens Over 30 6v6

Only $350/team unless otherwise specified!

Guaranteed 4 games minimum!

Prizes for 1st & 2nd place!

**Co-ed requires 2 girls on the field at all times!
For more information, please call us at 518-438-3131 or e-mail us at afrimsports@gmail.com
Anyone who is NOT registered within the Afrim's Sports' registration waiver system accepts full liability for any injuries/accidents that may occur.